Prof. Dr. Tim Beißbarth
Director of the Department of Medical Bioinformatics
Telefon: 0551-3961781
Telefax: 0551-3961783
E-Mail: tim.beißbarth@bioinf.med.uni-goettingen.de
Ort: Goldschmidtstr. 1, 2.OG, Room: 2.107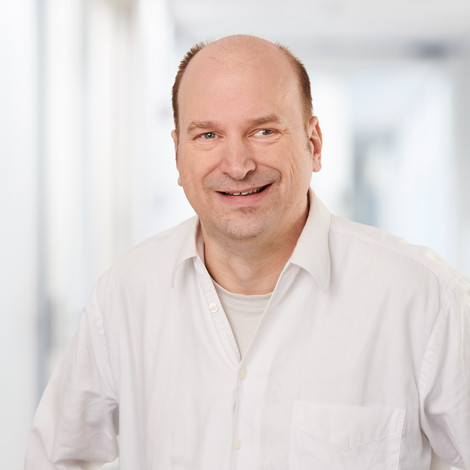 since 10.2018: Professor (W3), Head of the Department of Medical Bioinformatics, University Medical Center Göttingen (UMG)
2008-2018: Associate Professor (W2) for Biostatistics of the group Statistical Bioinformatics in the Department of Medical Statistics at the University of Göttingen
2005-2008: Groupt leader at the Molecular Genome Analysis Department (Annemarie Poustka) at German Cancer Research Center - DKFZ
2002-2005 Postdoctoral Research Scientist at the Bioinformatics Department (Terry Speed) at Walter and Eliza Hall Institute of Medical Research, Melbourne -WEHI
2001-2002: Postdoctoral Research Scientist at: Computational Molecular Biology - Max-Planck-Institut Molecular Genetics, Berlin Functional Genome Analysis- German Cancer Research Center, Heidelberg
1998-2001: PhD thesis at the German Cancer Research Center- DKFZ Departments: Theoretical Bioinformatics and Molecular Biology of the Cell I, Thesis: Analysis of transcription factor CREM dependent gene expression during mouse spermatogenesis (Supervisor: Prof. Dr. Martin Vingrom)
1996-1998: Diplom (Masters) Thesis in the Department of Cell Genetics about MHC Class I - TAP interaction, Topic: Interaction of MHC class I with the peptide transporter TAP".
1996: Assistant in Biochemical Practical Courses at the Institute for Biochemistry
1995-1996: Worked at the Regional Computing Center - Object Oriented Programming Courses
1992-1998: Studies of Biology and Computer Science at the University of Cologne
1989-1990: West Valley Highschool - Cottonwood, CA, USA
1983-1992: Heinrich-Heine-Gymnasium - Cologne, Germany
Sept. 8., 1972: Born in Cologne, Germany
Research focus
Statistical Methods in Bioinformatics
Modeling biological networks
Integrative data analysis methods
Machine learning
Current projects
MTB-Report: The aim of this project is to develop a system automatically matching genomic data to suitable treatment options, which will help clinicians to interpret genomic data in a fast and higly quantative manner. More.
MATCH: In Cooperation with the UMC Hamburg-Eppendorf or aim is the identification of a biomarker signature which associates with beneficial outcome on specific lipid therapy, and ideally is not dynamic under ongoing therapy. More.
CRU 5002: The aim of this Clinical Research Group (KFO) is to characterise the mechanistic basis, tumour biological consequences and therapeutic potential of these subtype-specific changes in genome dynamics in PDAC. More.
PerMiCCion: PerMiCCion is a strategic research alliance of world-leading researchers joining forces to apply personalized microbiome-based approaches to help in the early detection, monitoring, treatment, and prevention of colorectal cancer (CRC). More
FAIrPaCT: The goal of this consortium, consisting of the University Medical Center Göttingen, the University Hospital Giessen and Marburg and the Technical University Munich, is to develop a software
system supported by federated artificial intelligence called FAIrPaCT that will enable the analysis of clinical patient data and molecular cancer cell data from patients with pancreatic cancer across
institutes. More.
MyPathSem In the MyPathSem project, we aim in collaboration with other institutes of the UMG to come up with with a computational platform, or toolbox, which can be used by clinicians for making optimal use of high-throughput data for diagnostic or therapeutic purposes. For more information, please see the official project site.
Professional activities
Since 2020 DFG Peer for subject Medical Informatics and Bioinformatics
Since 2019: In Founding Board of Director of the Göttingen Campus Institute for Data Science (CIDAS)
Since 2017: Speaker of the field Medical Bioinformatics & Systemsbiology of the society GMDS
Since 2016: Member of the advisory board of the Fachgruppe Bioinformatik (FABI)
Since 2015: Associate Editor of GMS Medizinische Informatik, Biometrie und Epidemologie
Since 2014: In executive committee "Curricula for Medical Informatics" of the GMDS society
Since 2013 Member of the faculty board of the University Medical Center Göttingen
2009-2013: Leader of the joint workgroup "Statistical Method in Bioinformatics" of the scientific associations International Biometrical Society (IBS) and German Society for Medical Informatics, Biometry and Epidemiology (GMDS)
Since 2013: Co-leader of workgroup "Biomedical Informatics" of the society GMDS
Since 2012: Associate Editor of Statistical Applications in Molecular Biology (SAGMB).
Since 2011: Build up a Core-Facility "Medical Statistics & Bioinformatics" within the Department of Medical Statistics for the University Medical Center Göttingen
Since 2009: Associate Editor of BMC Cancer
Since 2008: Associate Editor of BMC Bioinformatics